Brocas de carburo cementado para perforación de roca dura
El botón de carburo de tungsteno es un tipo de brocas de roca que se ha utilizado ampliamente en herramientas de minería y perforación. El carburo es una de las aleaciones más duras y más abrasivas y resistentes al calor, y las brocas de los botones de carburo tienen una fuerte resistencia al impacto y tienen una pequeña pérdida y una larga vida útil en los procesos de perforación y excavación de rocas. Según las diferentes cuchillas de la cabeza y el mecanismo de ruptura de la roca, la broca de carburo cementado se puede dividir en tres tipos: broca en forma de cuña (en forma de lámina), broca en forma de bola y tipo compuesto.
Grade

Density

( g/cm3)

Bending strength

(MPa)

Hardness

(HRA)

Recommended applications

YG4C

15.10

1800

90.0

It is mainly used as an impact bit for cutting soft medium and hard materials.

YG6

14.95

1900

90.5

It is used as an electric coal bit, a coal cutting tooth, an oil cone bit and a scraper tips.

YG8

14.80

2200

89.5

It is used as core drill, electric coal bit, coal cutting tooth, oil cone bit and scraper tips.

YG8C

14.80

2400

88.5

It is used mainly as the ball of the small and medium impact bit, and is used as the axle of the rotating exploration drill.

YG11C

14.40

2700

86.5

Most of the ball teeth used in impact tips and wheel bits to cut high hardness materials.

YG13C

14.2

2850

86.5

It is mainly used in the rotary impact bit for cutting the high hardness material of the mining tips.

YG15C

14.0

3000

85.5

It is used for cutting tool of oil cone bit and medium and hard rock in medium soft.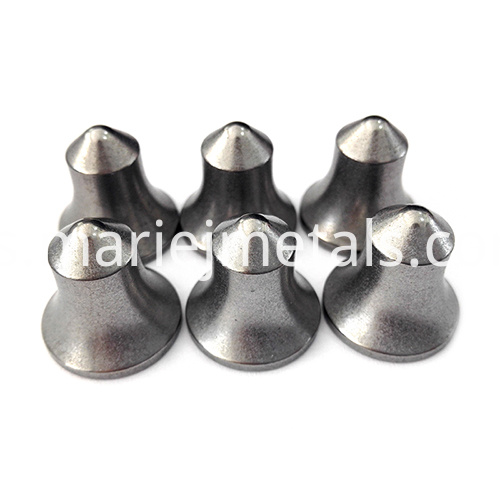 Contáctenos
Marie Jay's Metal Products Co., Limited
Tel: + 86-731-22130772, 28112392
Fax: + 86-731-28112381
Dirección de nuestra oficina :
B402 Chuangxin Building, 1 Mingri Road, distrito de Tianyuan, Zhuzhou, Hunan, China
PRODUCTOS POR GRUPO : Productos de carburo de tungsteno > Minera de carburo de tungsteno y brocas de perforación